Working with your sales teams to make them successful!
YOUR SALES SUCCESS 
We've created a suite of tools and services to ensure your sales success that gives you instant access to 100+ sales professionals and our teams to get you deal closing information as you need it. 
We've created instant access to information and sales professionals from leading publications who are actively engaged in direct to customer sales. Through collaboration, product insights and sales tools we make it even easier for you to open and close deals on every call.
Instant Access to information and expertise to start selling event ticketing and marketing services in your local community.
Instant access to 50+ sales operatives and our team.
Instant chat with individual and groups

Private channel for your team
Public channels to allow collaboration on topics
50+ sales professionals selling Evvnt marketing & ticketing
Collaborative white label sales collateral.
Sales presentations and videos
Snap sell sales information 'per event' 
Product media packs
Pricing & rate cards
End to end sales training from lead to order processing
Lead scoring & qualification
Call, pitch and service demonstration
Order processing & activation
Taking payments
Weekly webinars covering marketing and ticketing sales
Discover Evvnt
Set up and selling ticketing
Sales CRM
Set up and selling marketing

Helpdesk of information covering key topics.
How it works
Article & video support

Sales best practices
FAQ's
T  I  C  K  E  T  I  N  G   

F  I  R  S  T

 
SALES  STRATEGY

Create an integrated events platform that makes you

THE

place for event discovery in your market helping you reach a new and engaged audience
Ticketing  |  Marketing  |  Discovery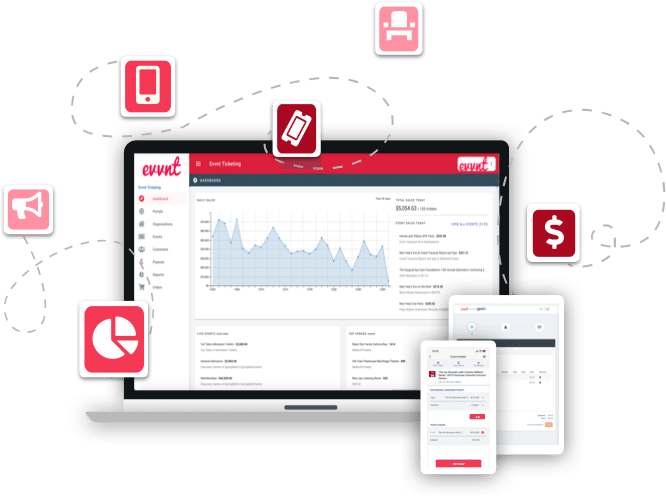 Everything you need to Know to use our Sales CRM
Check out our sales CRM support portal where you will find everything you need to access your leads, process orders and generate revenvue.
DEVELOPER TOOLS…
Integrate sales data directly into Salesforce, LineUp or Brainworks. 
"Evvnt was competing with 3 other ticketing companies to provide City Pages with a solution for a full-service white label ticketing platform. Evvnt won our business for three main reasons:
1) Optimal Communication: Constant updates, trainings, and advice is being dispensed our way to make our platform stronger every day.
2) Sales and Marketing Leadership: The Evvnt Ticketing team knows what they are doing when it comes to marketing, prospecting, meeting, and closing out sales opportunities.
3) Brand Representation: Evvnt Ticketing quickly learned who we were and represented our City Pages brand in a very respectable and honest way in our market which has helped enhance our brand.
For a partner with optimal communication, sales leadership, and trustworthy brand representation, I recommend choosing Evvnt."
"Quickly after introducing Evvnt Ticketing in our pilot market, it was clear that it was the right platform for larger-scale adoption. Since then, we have rolled the platform out in a number of our media markets throughout the northwest to positive results. The platform has enabled our teams to partner with a variety of community organizations and promoters to provide very effective ticketing services, competitive service fee pricing along with the confidence of local support."
"As with most newspapers across the country, we have been searching for new avenues to generate revenue. With advertisers spending less, Evvnt Ticketing offers the perfect solution to generate revenue by utilizing our biggest asset and offering it to new revenue-generating clients at no cost: our audience. Our audience looks to us for our coverage on events: we write about them, promote them and sell ads to promote them; why not sell tickets for them?"
SOUND GOOD? LET'S START TALKING
Try it for yourself now and see what we can do for your business.
JOIN THE LARGEST EVENTS TICKETING & MARKETING NETWORk
Media Company? Blog? Event listing site? Event calendar? Venue?
By joining our network and helping our event creators sell more tickets, you can diversify and grow your revenue, your brand, and audience while creating exciting new partnerships that will take your business to new heights.