We convert your event submissions into highly qualified sales leads for you to up-sell to ticketing and marketing services 
Sales CRM WITH HOT LEADS 
Imagine if you were given fresh, hot leads every day and when you called them they wanted to take your call and learn about services that make their event successful…
Highlights
Converts event submissions to leads
Publisher logo
Contact information including name, telephone, email
Number of submitted events 
Capacity and ticket price
Lead scoring 
Demo and impersonating 
Order processing
Payment processing
Sales results reporting
How it works 
We deliver you fresh leads daily.
Claim, call and sell local events ticketing and marketing
FINANCIAL REPORTING
Manager & Direct Sales Team Reporting
Highlights
Per publisher revenue reporting
Sales less cost breakdown
Sales split by product
Revenue over time / monthly
Per Rep
 Total leads called
Conversion rate to sale
Total sales in revenue and by package
Leaderboard
Manager
All rep oversight
Sales leaderboard

Create an integrated events platform that makes you

THE

place for event discovery in your market helping you reach a new and engaged audience
Ticketing  |  Marketing  |  Discovery
50% of consumers abandoned their carts because pricing wasn't clear and a further 21% because the process was too long? (Bayard)… so call them.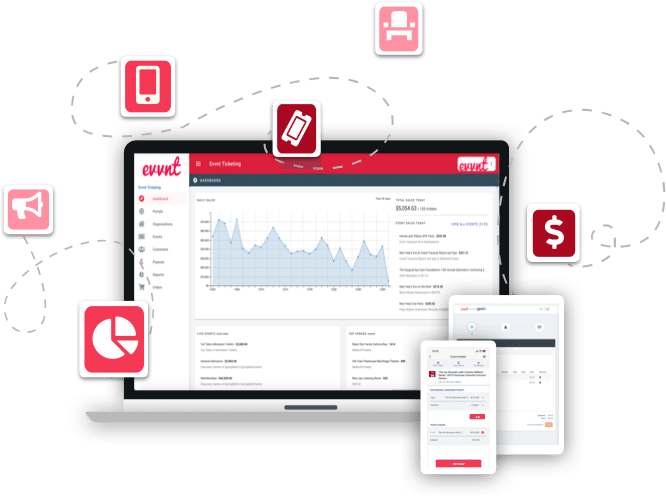 Everything you need to Know to use our Sales CRM
Check out our sales CRM support portal where you will find everything you need to access your leads, process orders and generate revenvue.
DEVELOPER TOOLS…
App Marketplace, Build, Integrate. 
"Quickly after introducing Evvnt Ticketing in our pilot market, it was clear that it was the right platform for larger-scale adoption. Since then, we have rolled the platform out in a number of our media markets throughout the northwest to positive results. The platform has enabled our teams to partner with a variety of community organizations and promoters to provide very effective ticketing services, competitive service fee pricing along with the confidence of local support."
SOUND GOOD? LET'S START TALKING
Try it for yourself now and see what we can do for your business.
JOIN THE LARGEST EVENTS TICKETING & MARKETING NETWORk
Media Company? Blog? Event listing site? Event calendar? Venue?
By joining our network and helping our event creators sell more tickets, you can diversify and grow your revenue, your brand, and audience while creating exciting new partnerships that will take your business to new heights.